Most of us are familiar with low-cost airlines. In recent decades, these new cheaper flights, also known as 'no frills' services revolutionised the way we travel internationally in Europe, bringing air travel within reach of most people for the first time. The question I seek to ask here is: are there equivalents available on the railway? While it might be more limited in scope, the railway can offer you some brilliant bargains – but often you need a hint to know what you're looking for!
Many media reports suggest that the railway industry has something of an image problem when it comes to ticket prices. On the face of it, that might be right. It's easy to do a quick search for Manchester to London on a Monday morning and be quoted an astonishing one-way fare of £175. Fares complexity means that it can be difficult to go online or head to a ticket office and try to state a preference for the cheapest possible way to make your journey by rail. But away from the headlines, let's dig deeper and see what is out there for the savvy traveller!
London to Birmingham
Here we can get a real advantage by heading over to the Cheapest Fare Finder by National Rail Enquiries to look up prices. The trick comes in entering 'MYB' for London Marylebone station and 'BMO' for Birmingham's Moor Street station to unlock the cheapest fares:
This tool is perfect for showing you the cheapest way to go, and allows you to fit your travel around the bargain £6.40 'Advance' single tickets between London and Birmingham – which are cheapest out of any rail operator between these cities! These tickets are fixed time, but booking in advance yields plenty of choice of times available at this price, with two Chiltern services per hour making the trip in under two hours. Your tickets can be posted out to you, or picked up using the Railway's 'Ticket on Departure' service from the station ticket machines.
Chiltern's 'Mainline' trains even offer free wifi and onboard entertainment, charging sockets and tables to work from on their trains – not so 'no frills' after all!
Cambridge to London
Let's say you live in Cambridge and fancy some retail therapy or sightseeing in London one weekend. There are two services per hour between Cambridge and London Liverpool Street, taking 70 or 80 minutes. As with Chiltern, you could get an Advance ticket for these. But wait! Head over to www.brfares.com instead and type in Cambridge to London Liverpool Street. Scroll to the bottom of the Standard class fares and you can see a return ticket for just £13.00!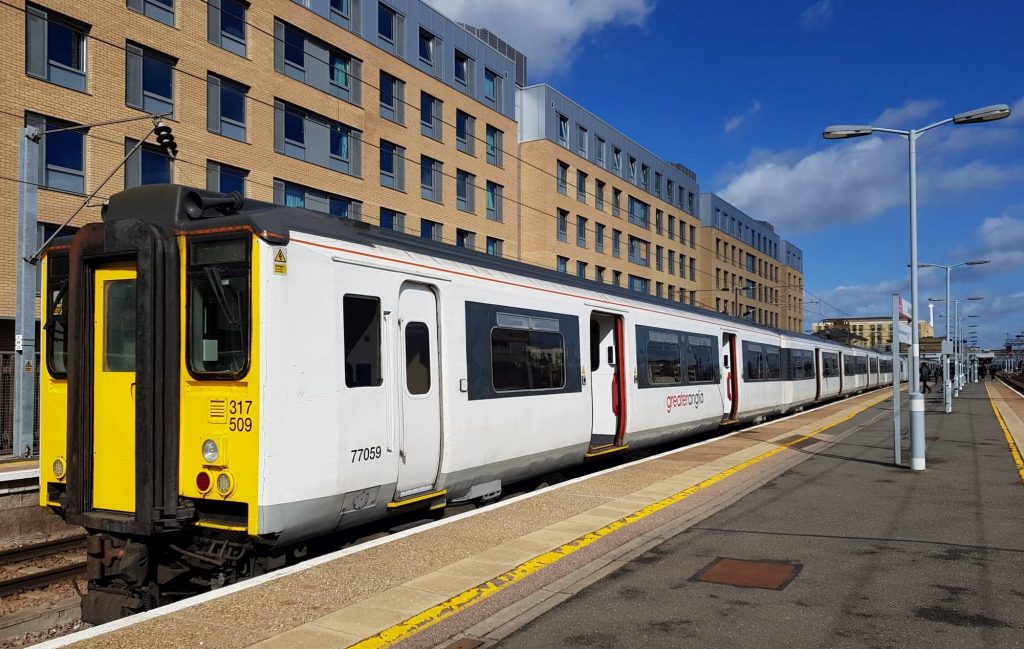 Although there are non-stop services to King's Cross station which cost more, this return ticket gives you bargain access to central London on the weekends, and the best bit is: there's no need to book. At the moment, you can just walk into the ticket office or visit a ticket machine to get this deal before jumping on the train; just make sure you ask for the Greater Anglia Only option, and you check the train you're about to get onboard says Greater Anglia on the departure screen! This option costs less than a pair of Advance tickets and lets you use any of their trains all day. Equally, if you're a Londoner, you can now get inspired to have a day out in Cambridge one weekend. Nice!
Manchester to Leeds
There are three trains per hour between Manchester Victoria and Leeds run by Northern, taking 80 to 90 minutes. Although they have been run by legacy rolling stock for a while, Northern are taking on totally new trains with tables, charging sockets and free wifi: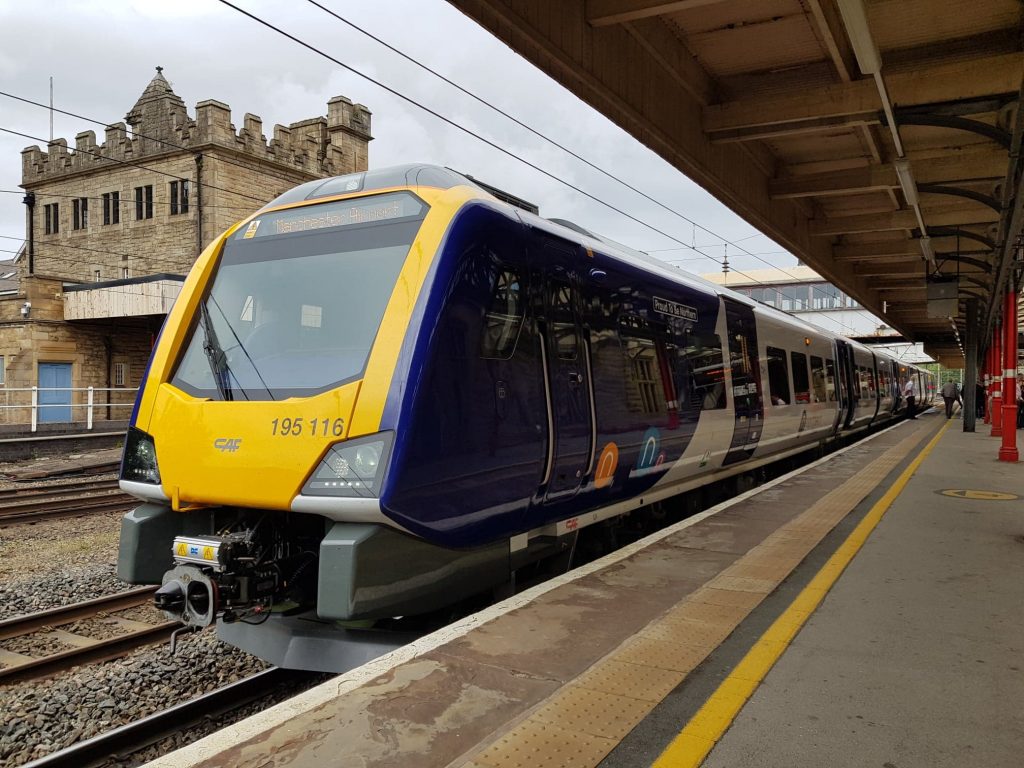 Despite the class, though, if you get one of the new trains, they still offer bargain fares right up to departure time in most cases! Head to the Northern Railway app for Android or iOS.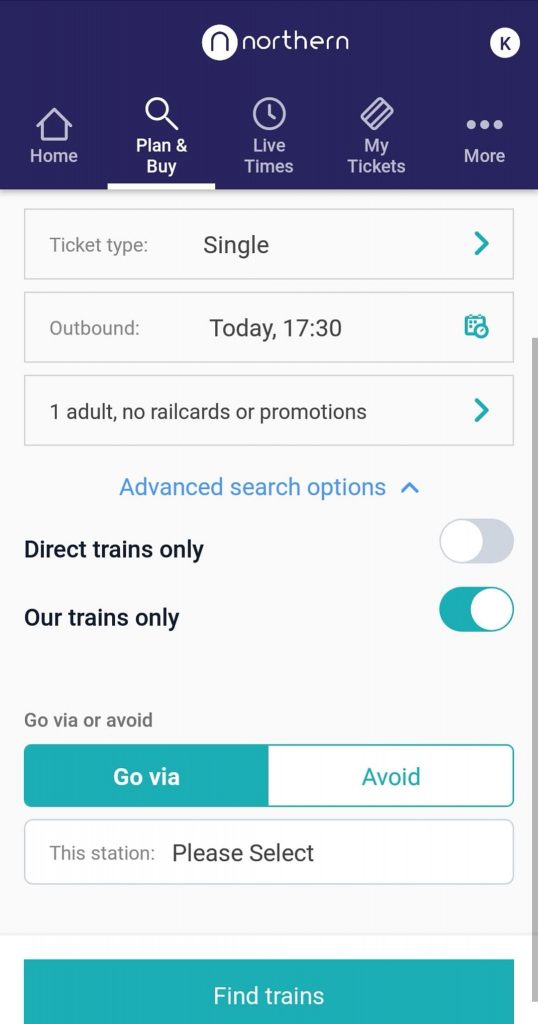 For the western end of your journey, you can type the code 'MCV' here, standing for Manchester Victoria specifically, rather than any of the other 'Manchester' options on the app. The station is located in the city centre.
There are other trains taking around 50 minutes between Manchester and Leeds, which cost more for flexible tickets, and you can check out all of the flexible ticket pries on our website.
The trick is to make sure that you select the 'our trains only' option, as here. This will ensure that the slightly slower Northern services all show up in the results.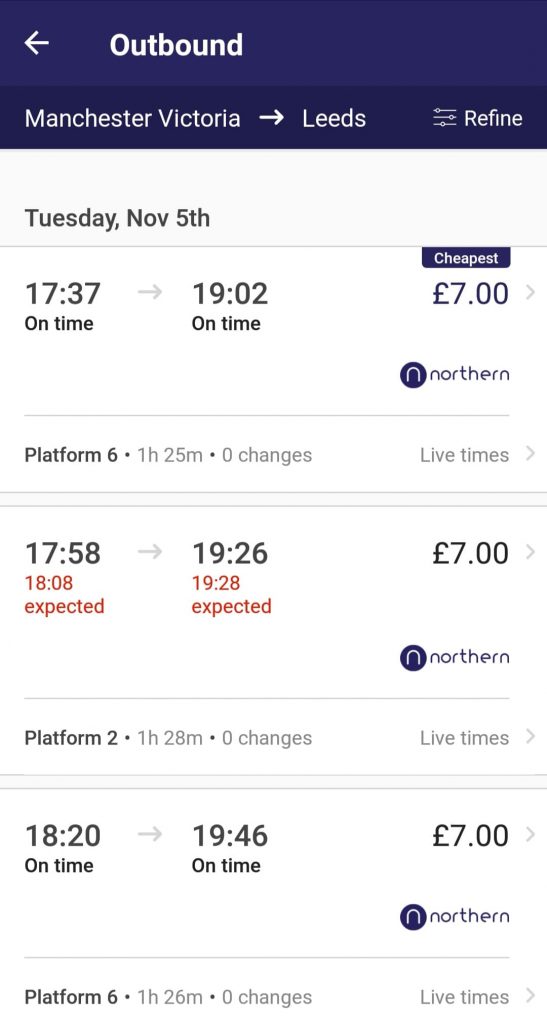 As you can see there are loads of options at just £7, mere minutes after the search was made, and even in the afternoon peak!
The app includes platform numbers and live running information, and the ticket can be delivered through the app.
You can use a similar interface if you're using a mobile device by visiting their website – and if you aren't online, you can ask at a Northern ticket office for them to check for Advance tickets for you.
It's worthy of note that we're not making use of 'split ticketing' sites here, or doing anything to exploit the system; we're just finding the bargains that the train companies put on sale that are so easy to overlook because of the sole journey time priority which is conventionally applied on most online journey planners.
Bag yourself a bargain!
While budget airlines might have taken off in recent years, there are smaller-scale examples of this sort of travel freedom on rails too – and often more comfortable than you might think! It's often hardly slower than the most expensive trains for the same journey, and using a cheaper competitor is a totally legit way to save! There are more hidden deals just like these hidden away on the railway network and on www.brfares.com – click here for my handy guide on how to use the site! Have you tried one out? Know any more of your own? Comment below!