One of my fondest memories was a trip to Devon on a GWR train. I was expecting to be sitting, or standing in an overcrowded train, at best there might be a trolley serving tea and coffee. I had assumed the journey would be unremarkable at best, stressful at worst and simply a way of getting from A to B. My holiday would start in Devon itself. I was pleasantly mistaken! My friend's expertise in all things rail meant he knew that there was an excellent offer on the train to Penzance. We were on one of the lunchtime trains between Reading and Plymouth, passengers with standard class tickets were able to dine in the 1st class restaurant. An excellent deal! I am absolutely confident that without my friend's expert knowledge I wouldn't have capitalised on this deal.
The service and food provided were easily a match for the luxurious hotel we were to stay in later on in our trip. Excellent service, fantastic food, wine, scenic views, and lots of space!!! See below a few examples of the superb Pullman's dining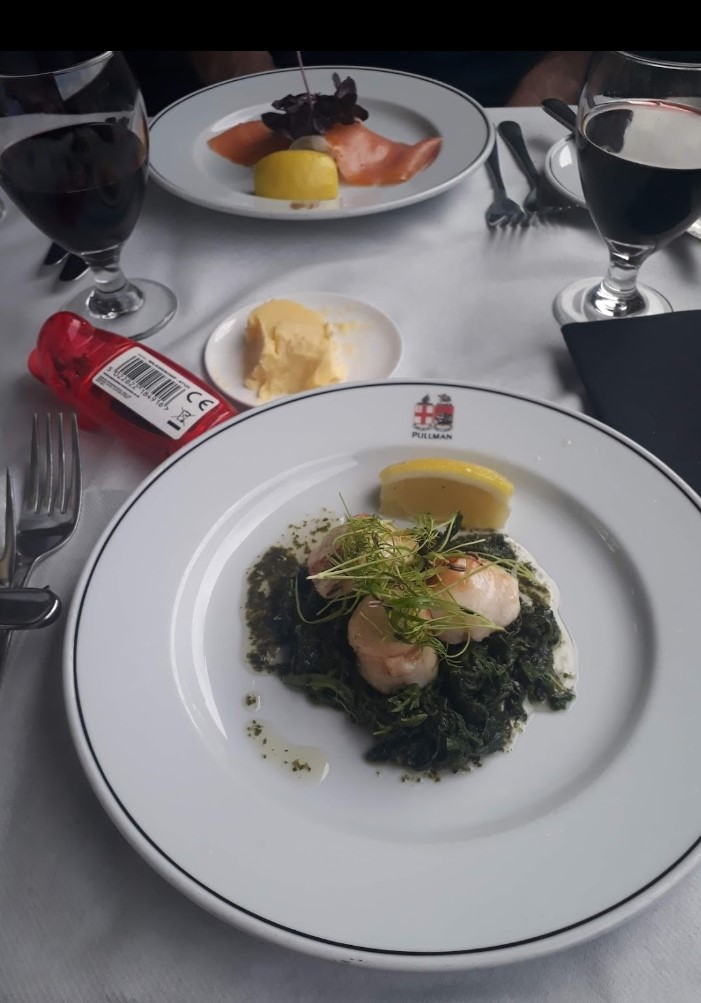 The experience transformed my perception of rail travel as a means of getting from one place to another. I realised that with some prior knowledge of what is available onboard your holiday can start on the train. We made the same trip a year later and whilst I was looking forward to the hotel and the sea, I was most excited about my dining experience onboard the train. I was never disappointed! I am currently waiting for my invite to go again…
Attracting passengers back to rail has been a hot topic since the pandemic lead to a massive drop in passenger numbers. The key question being: How do we convince people to use rail over other modes of transport? There has been plenty of research into this topic. Most recently a survey carried out by the UK sustainable transport charity, Campaign for Better Transport found that the public would be persuaded to use rail if the following were improved…
30 % of people cited less crowding
29 % cheaper tickets
26 % more frequent services
22 % punctual service
15 % Simpler payment options, (touch in and out)
12 % better real time information
Would selling the leisure experience at the point of purchase be part of the solution also? How many of us have boarded a train unsure of what service we may, or may not get? This absolutely must impact on some people's decision to use rail, especially leisure travellers who often can use the car instead. For me there are so many benefits of using trains over other modes of transport: No need to stop at a service station for amenities, often there is a trolley and sometimes restaurant service available, you can switch off and enjoy scenic views, no traffic jams etc. Selling the passenger experience at the point of purchase is complimentary to the other improvements needed to attract people back to rail.
How do you know what is available?
Hearsay, rumour, experience, or additional research. There is plenty of information on catering facilities for those willing to do their homework, however it does require additional research, as the information available at the point of purchase is often minimal. If I book a train on GWR from Paddington to Plymouth I know at the point of purchase if I click on the 'i' icon that there is catering provided: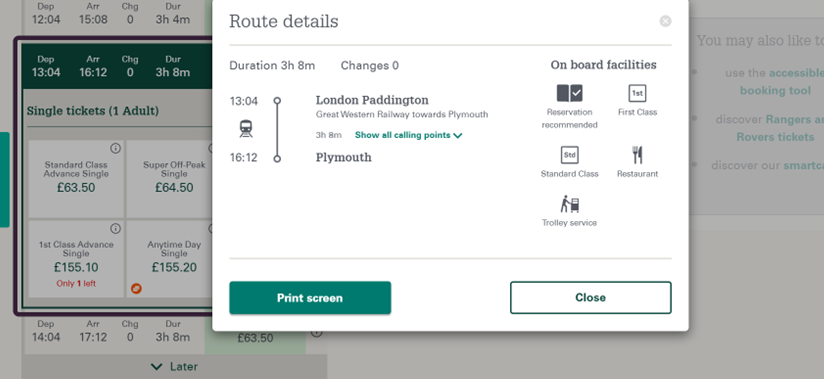 It isn't obvious unless you know what to look for, however the GWR site has relatively good information on catering. This is not the case for most retail sites selling rail tickets, in some cases there is no indication whether you will have catering or more onboard. If I book the same journey from London Paddington to Plymouth on the 13:04 train via Trainline there is no information on catering.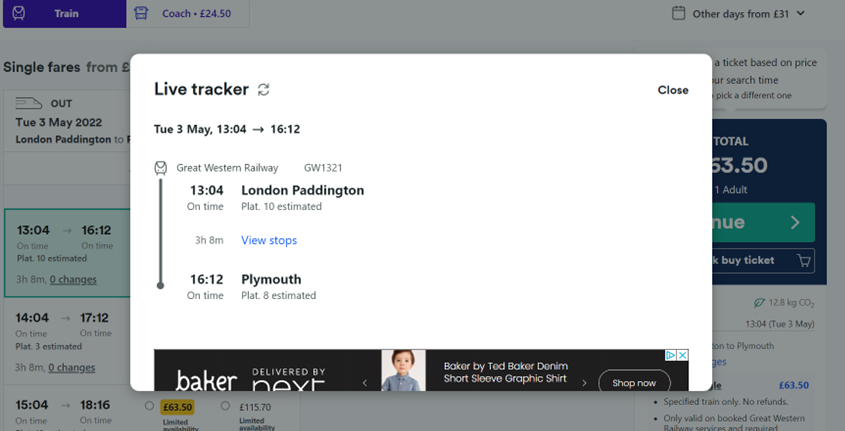 As you can see above the information on catering provided at the point of purchase is minimal. If I want to know if there is a restaurant carriage and whether I can book a place in advance, I would have to undertake additional research on the GWR 'Travelling with Us' page. This includes a timetable of services which provide a restaurant carriage; even then it isn't guaranteed you will be able to reserve a space. You are required to check when boarding the train. Wouldn't it be great if this information was provided up-front at the point of purchase? No need to do additional research, enticing and a great way to convince leisure travellers that the train is indeed a far more enjoyable and luxurious option than the car. The great thing is that all this information is available online; the advertisement of these additional services is fantastic when you know where to look (see below). It does however require additional research. This is the case for all the rail sites selling tickets.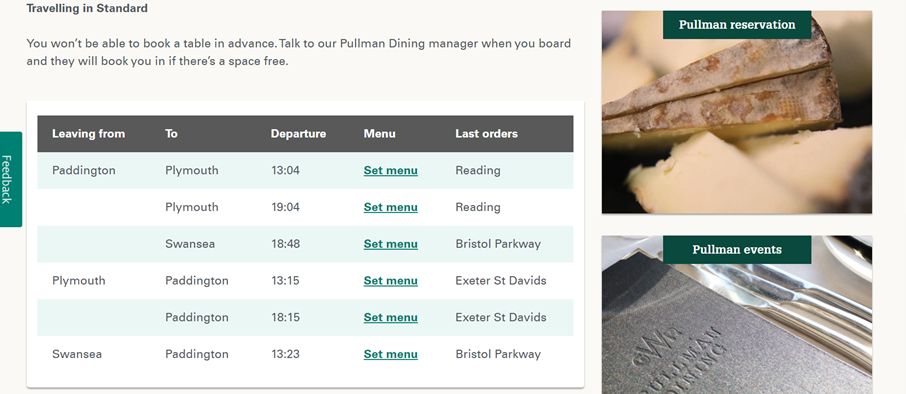 Selling the passenger experience
What are the possible solutions to selling the passenger experience at the point of purchase? What if we integrated the advertising of the passenger experience at the point of purchase? BR Fares has been working on just this solution.
We thought selling the passenger experience would be of immense benefit for the following reasons:
Providing better quality data on services to help people make informed decisions about which train would suit their needs best.
Post pandemic it is more important than ever to sell the passenger experience and undo some of the damage done by the message throughout the pandemic, which was to avoid train travel, unless essential.
One option we have been looking at is to provide "signposts" to draw the prospective passenger's attention to particular aspects of different itineraries.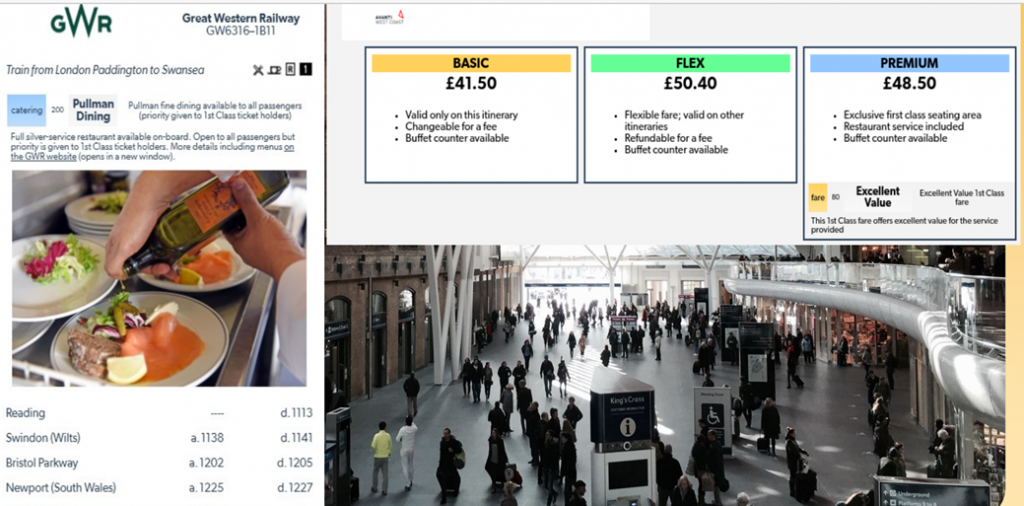 These signposts could include: Scenic views, catering, luggage space, Wi-Fi, whether the train has a level platform, pram and wheelchair space etc.
Advertising leisure experience at the point of purchase is complimentary to other changes to improve the passenger experience and ties in with stated goals for Great British Railways to put passengers at the heart of rail.
What is the point?
Some people would make the point that they already know what services are included onboard a train, so why does it need advertising at the point of purchase? More commonly people will argue that there are other more important things, such as price, convenience and ensuring trains run on time! All valid points, and clearly from surveys conducted very important to passengers too! Hence the efforts being made to introduce pay-as-you-go for shorter distance journeys and to reduce the complexity of fares. We all have different priorities when choosing to use rail. Sometimes however we may not think something is important to us, e.g. catering, however when we know what is available this can sway us. I think most importantly it could sway discretionary leisure travellers and commuters, who have the freedom to choose when they make their journey.
Advertising the leisure experience to the passengers at the point of purchase can only be a positive thing, which may persuade some people that their holiday can start on the train. At least it would persuade me!