Just keeping people up-to date with what we are currently working on at BR Fares. I wanted to write about our APIs, which we launched several months ago. See link below:
Why we chose to sell APIs?
We chose to start selling our APIs because we saw a need to provide better quality and streamlined data within the industry; we wanted to build our reputation as a supplier, one in which we are a trusted fares intermediary. Our APIs solve specific needs of industry players.
The APIs we currently offer and will offer are as follows: Easy Fares API (coming soon), Season Ticket Price API, Rovers and Rangers API, Seat Reservation API (not yet available) and Legacy API.
Why use our APIs?
Our APIs are useful for organisations supplying products and services to train companies, i.e. anyone who wants to provide up-to date and accurate fares information in their product. Our APIs are sometimes used for research purposes, such as fares research and potentially by people working in a customer service role, who need complex fares information presented in an accessible way. We are currently working with several suppliers and TOCs.
What are the benefits?
Using our APIs saves time doing additional programming and is an accurate, streamlined and trusted source of fares data. The APIs are an easy entry point for TOCs building small digital systems. They break down complex fares data into manageable chunks, which means that programmers don't need to learn different RDG data formats, or to get up to speed with the data; as a result the APIs save organisations time and money.
Example of our APIs
Season Ticket Price API
Summary: Ticket fulfilment information, correct terminology for ticket issuing, data on changes to fares in advance, e.g. Flexi-seasons, carnet fares and season tickets. Highly accurate and streamlined data.
https://www.brfares.com/api/season/
Rovers & Rangers API
Summary: Promotional information, restrictions, pricing and area of availability for these tickets which offer unlimited travel within a defined period.
https://www.brfares.com/api/rover/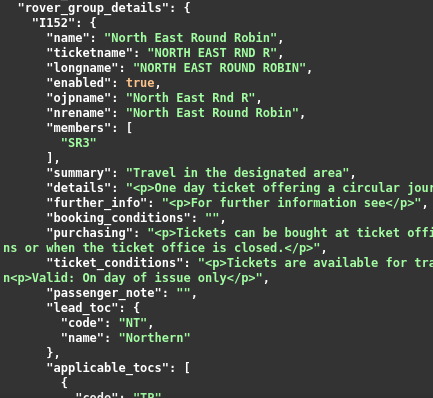 Moving Forward
Hopefully, this was a useful summary regarding what BR Fares is currently working on. We will soon be launching our Easy Fares API, which is a more accessible version of the legacy API (easier to use and with extra data).
Paul will in due course also be offering fares consultancy. Watch this space!