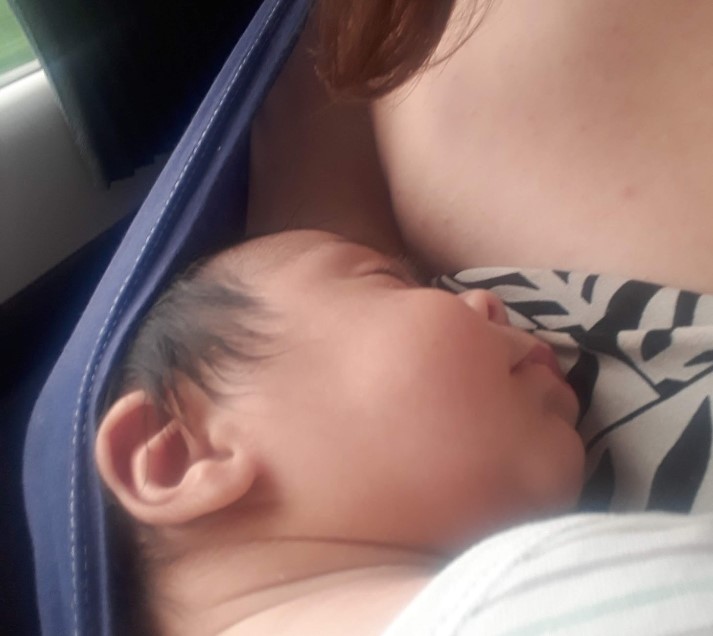 I would relish the opportunity to travel more often with my son and daughter on trains! Both love an adventure, and watching the world pass by out of the train window fills them with a sense of awe. If trains contained consistently-designated areas for parents travelling with very young children — Family-friendly Spaces — we would certainly travel far more often for leisure.
My past experience however when travelling on rail with children has been (mainly) a stressful one. At best I have travelled on services, such as South Western Railway outer suburban services, which have very adequate pram space and spacious room between the seats for the children to play. At worst (far more common) we have been stuck between carriages, usually by the toilets. The experience consists of trying to feed or entertain bored children, whilst trying to avoid irritating other passengers. Many times, I have had to hope the disabled space was free so I can park a pram, e.g. when travelling from Reading to Oxford on CrossCountry services. As there are no designated family-friendly spaces, I often have to entertain the children crammed next to other passengers who might be working or otherwise concentrating, and try and keep disruption to a minimum. In essence the experience is inconsistent at best and at worst very stressful.
Below I put forward potential solutions to the lack of designated family areas on trains, as well as highlighting the benefits of creating family-friendly spaces for train operators and passengers alike.
Current Situation
Based on my own experience, as well as research conducted by the Campaign for Family-Friendly Trains earlier this year, accommodation for people travelling with young children is patchy at best. Some operators are however starting to provide trains with facilities explicitly targeted towards those travelling with babies and very young children:
Merseyrail's new fleet of trains due to enter service this year have one area per four-carriages with four tip-up seats specifically designed for prams, pushchairs and luggage. TfL [Rail, now known as Elizabeth Line] already has multi-use spaces on trains where unfolded prams and pushchairs can be placed and with fold-down or perch seats in the immediate vicinity.

Campaign for Family-Friendly Trains, research conducted Jan-March 2022
I found it especially interesting that several train companies didn't respond to this survey, as it demonstrates that provision of family-friendly spaces is not a high priority. For example South Western Railway did not respond, even though (as mentioned above), many of its trains are already reasonably family-friendly! If companies want to encourage more leisure travel and be inclusive, then accommodating families with young children must be a priority.
Solutions
1. Simply designate an area as "Family-Friendly"
This sounds basic but I believe would give real benefit and be a good start. Having designated spaces on specific carriages for families with young children, would also mean other passengers, e.g. those travelling for work, or who don't want the noise of young children would know (if these carriages were signposted) to avoid these areas if possible. This in turn would reduce stress for parents. I know my main worry is irritating other passengers, especially those working on their laptops.
2. Have the area adjacent to suitable toilets
If the family-friendly areas were consistently designated next to suitable toilets including a baby-changing shelf and (ideally) combination toilet seats to make the facilities easier to use for potty-trained (but still small!) children, this would be another weight off the mind of the harassed parent planning his/her train journey. Again, this should not require great expense or investment to implement, just some co-ordination and a bit of action.
3. Create designated pram parking spaces (next to the area)
It isn't always easy or convenient to fold and unfold prams, especially as you approach your destination. Often my children slept in their prams, so disturbing them would cause all hell to break loose! Ideally the family-friendly areas would also have adjacent pram parking space.
Carriage of unfolded prams or buggies on trains is quite a hot topic, due to the extra space required. But the Campaign for Family-Friendly Trains has recently reported encouraging news that the Rail Delivery Group (RDG) may be willing to designate space for unfolded prams as a "Key Train Requirement", which would be a big breakthrough in terms of forcing train operators to take this seriously in their discussions with rolling stock providers.
One way to create this pram space would be to remove a couple of rows of seats in the family-friendly carriage, in order to create more space. A key point should be that it is a designated family-friendly space (rather than multi-use), and that this would be clearly signposted to other passengers. This is important in order to minimise conflicts between passengers, such as someone wanting to store luggage in an area and another wanting to put a pram. Again this would reduce stress for parents.
4. Make the pram spaces reservable (for longer journeys)
For longer, pre-booked journeys, it would be especially useful to also be able to pre-book a pram space, to avoid the obvious inconvenience if the pram spaces are all full.
In the last couple of years, rail retailers have been making a massive investment in the new RARS2 reservations system – involving both funding the central system and making extensive changes to their own systems (including website and app user interfaces) to accommodate it. This would be an ideal time to add support for a new reservation type (such as pram spaces), although unfortunately the opportunity has probably been missed now.
5. Signpost passengers towards the family-friendly areas
The BR Fares retail site, which as you can see below will use signposting to help passengers choose their passenger experience prior to buying tickets, would also signpost trains with family-friendly areas and designated pram space. Our aim is to encourage leisure travel, as well as help passengers make informed choices about their passenger experience, ideally so that their journey is more enjoyable.
We would also enable parents to book pram spaces online, if this service is available (as it is in certain cases for bike and wheelchair spaces). Below is an example of how our signposting would work in practice.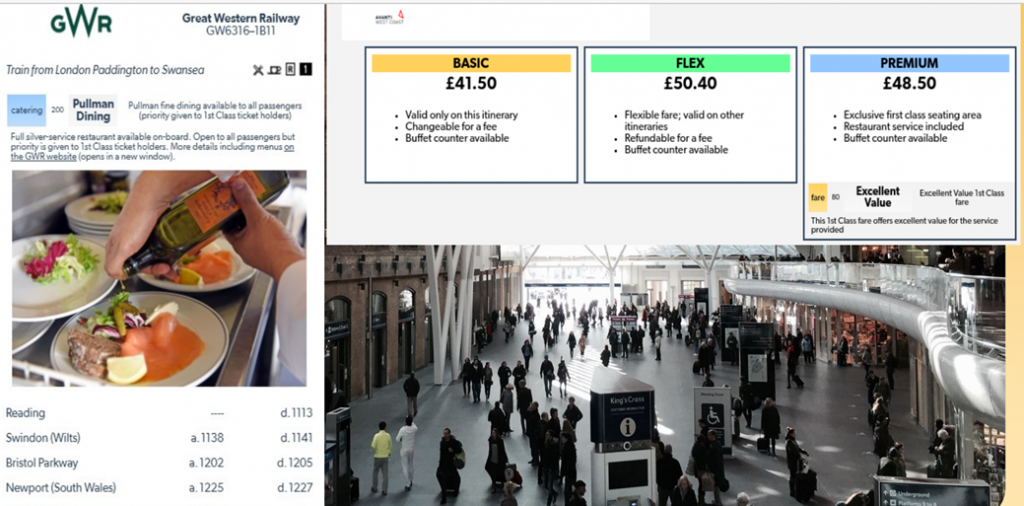 Benefits of Family-Friendly Spaces
There are plenty of benefits to both people travelling with young children and train companies themselves for creating more family-friendly designated areas of trains
Increase leisure travel – Leisure travel has become more important than ever, after the pandemic. Many people no longer commute to work via rail and therefore ensuring that train travel is appealing to families, going on day trips would be a good place to start.
Inclusivity – The current set up makes train travel extremely stressful and inconvenient for people looking after young children. It doesn't meet their needs.
Environmentally friendly – with trains being far more environmentally friendly than cars people looking after young children are more likely to start choosing train travel over cars for trips, if their needs will be met.
Better for everyone – People travelling with young children would be less stressed travelling on trains, if there are specific areas just for people with small children. Passengers who do not want to be disturbed by young children could avoid areas designated to people travelling with small children and the children themselves would be happier
Conclusion
I chose to specifically focus on creating areas on trains for families travelling with babies and very young children (under 3) because I believe that to increase leisure travel and inclusivity trains need to cater to people travelling with young children. This could involve designing trains to ensure there is more space for those travelling with children. I can say for certain that if more trains have family-friendly spaces I will be travelling with my kids far more often!